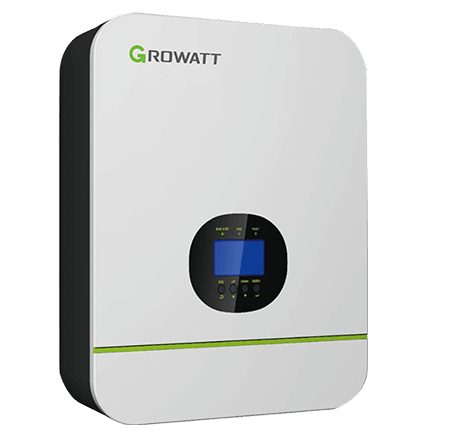 SPF 3000TL LVM-24P (WiFi-F) (Can Bus)
Sale
Sale
Original price
$750.00
-
Original price
$750.00
Growatt SPF 3000TL LVM series inverter has a pure sine wave output inverter also just for 120VAC power supply system. It is perfect for off-grid , backup power and self-consumption applications.
This fills a particular market niche that we just weren't getting a product for.
Did you know that Growatt is the only Chinese inverter manufacturer that received the "All Quality Matters" Award by TuV Rheinland Germany.
This unit is not a knockoff like (POW EASUN etc.)  This is a very well built / designed product, otherwise we wouldn't sell or support it.
Supplied by a top tier support outlet here in the USA, (Utah).
Parallel Kits already built in,
super quiet operation.
Very detailed LCD display
2 yr swap out warranty.
5-in-1  unit.  (Not Grid Tied – no feedback, only Grid assist – the load gets switch over to grid when all else fails)
1) 3000 W Pure Sine wave output expandable up to 6 units (18 kW)
2) 2kW MPPT Solar Charge controller
3) 60 A  24V Utility Battery Charger  (In case your battery level falls below your setpoint)
4) UPS function, wire it to the Utility power, if battery power is too low, the system automatically switches the load to Utility power
5) Single 120V 60Hz , Split phase (120V – 0 – 120V ) and 3 phase capable (includes parallel board for each unit)
6) Pure Sine wave output expandable up to 18 kW (single or Split Phase configurable –  will need to all be connected to the SAME battery, make sure its large enough to handle the load for the time – usually 2 days or more)