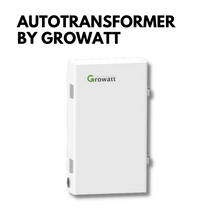 Sale
Sale
Original price
$419.99
-
Original price
$419.99
for the 5000ES model inverters turns 240 single phase into split phasec120 /240 also has transfer switch built in for both grid and inverter power comes with also 120/240 60 hrz transformer 5000kva  also i have the bigger one  on here the11,40o watt with 2 transferswitchs and transformer

UL Approved  
i do have an 11,400 watt transformer to
southwest solar supply is happy to offer this new transformer with transfer switch
the latest US Split Phase Auto 
Transformer
 by Growatt. This autotransformer takes Single Phase 240Vac (L/N) electricity output and creates true Split Phase 120Vac/120Vac (L/L/N). This addition to our line sheet increases safety and ease of use for the user with designated input and output locations to simplify connecting this 
transformer
 to your system.
ATS-US comes with a built-in transformer 
Perfect for use with the Growatt 5kW ES off-grid inverter
ATS 5000T -US has a maximum sum of L1-N and L2-N simultaneous output is 5000VA

Please note, the maximum imbalance between L1/L2 is 2500W (E.g. 1250/3750 L1/L2) purchase two if you believe your needs will exceed

Maximum continuous power is 5kW for energy storage
PLEASE NOTE THIS IS NOT AN AUTOMATIC TRANSFER SWITCH. THIS PIECE OF EQUIPMENT HAS BEEN CREATED FOR THE U.S. MARKET AND THAT FUNCTION HAS BEEN REMOVED.
FULL SPEC / OVERVIEW
MANUAL / QUICK START GUIDE
UL CERTIFICATE
*The rated power of secondary side L1-N and L2-N can be up to 5kVA respectively, and the power difference between the two split phases can notexeed 2.5kv